Love poetry is of course, the jewel in poetry's crown. It is the main reason why many a poet first got into the tricky business of writing poems. I'm willing to bet that almost every one of us has attempted to write a love poem at least once in our lifetimes, if not for a Valentine's card then as a spontaneous diary scrawl, be it in a moment of mirth or stoic seriousness. As Plato said, 'at the touch of love everyone becomes a poet.' When love has assaulted our every sense, poetry is the only medium that is capable of relating and understanding. It can measure up in words to the glorious heights of feeling love inspires and as such, is proof proper of its power.
When I say 'love poem' I'm curious - what pops into your head? The cliched juvenile refrain of 'Roses are red, violets are blue' I bet? Or the reliable posturing of Shakespeare's 'Shall I compare thee to a summer's day'? Maybe Elizabeth Barrett Browning's 'How do I love thee? Let me count the ways'? It seems to me that when we think of a love poem, it is nearly always an antiquated one with whorling sentiments galore, or an overly sentimental slushy thing that we should approach only with caustic cynical caution. But, I am here today to tell you, that needn't be the case.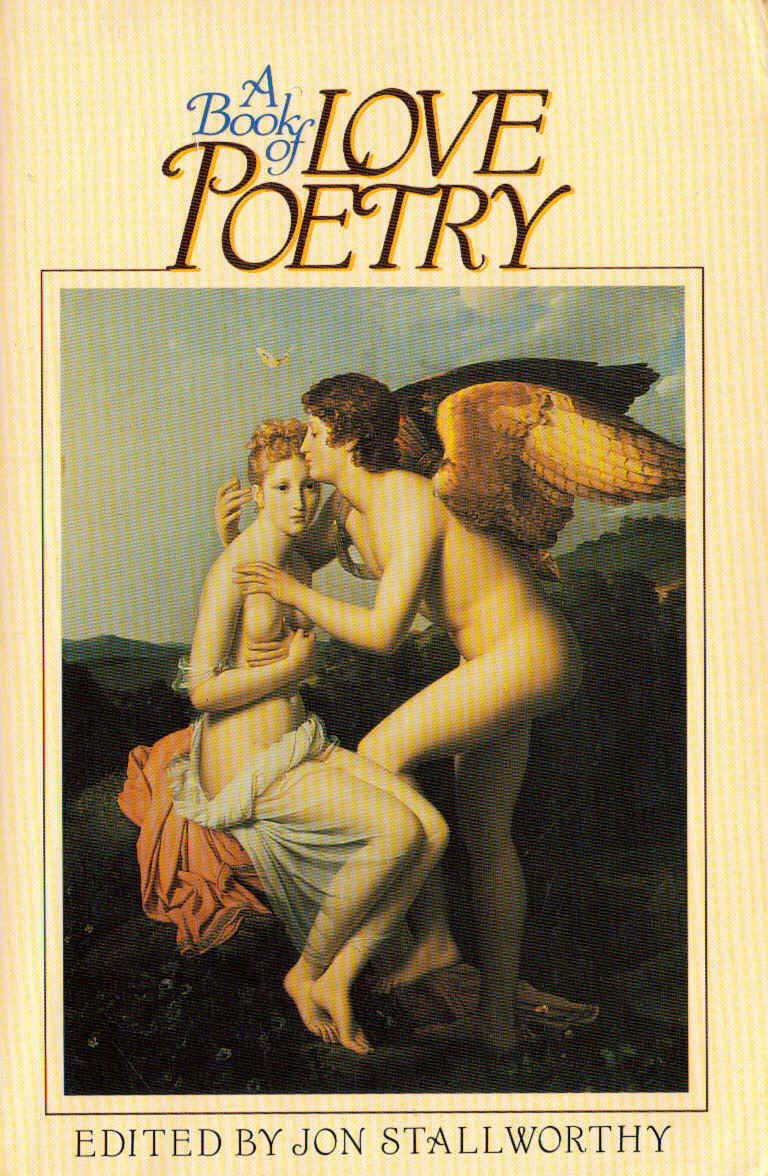 I'm so fed up with finding traditional love poems everywhere, from articles to anthologies with the usual suspects: Ben Jonson, John Donne, Byron, Shakespeare, Sir Philip Sydney, Cristina Rosetti, Shelley and the likes all trumpeting on about some airy-fairy notions of love in some trumped-up verse! As an English major, I am aware I may be committing some act of treason here, but as a truth-devoted opinionist, I feel it my duty to admit that these old traditional love poems just don't do it for me, or for that matter, a majority of readers. Well, some of them (like Keats) are just fine (and sublime) in moderation, but to have every article - 'Love Poems Everyone Should Know' (I'm looking at you The Times) - and love poem anthology saturated with them is just bloody tiresome at this stage! Not to mention a tad elitist and stuffy. Especially when there are so many GREAT contemporary love poems out there, unanthologised and often unacknowledged.
In comparison, these 'classic' love poems all sing to the same beat, like manufactured pop today (well they were a manufactured sort of genre back in the day). Hello editors - there are other love poems out there!! What are you trying to do - put people off reading poetry? Have them see love as something frilly and fluffy and farcey? Because face it, some of these old woo-some gems are simply boring, trite and puffed-up pomp.
Contemporary love poetry is a genre full of wit and originality. It is not so much concerned with generating feeling as more attesting to it, as subtly and surprisingly as possible. It doesn't spurn sentimentality; rather it transforms it into something more tangible and real. No trumped-up embellishments here. It is genuine, born from real emotion not a competitive literary trend and therefore forced inspiration, and each poem, most especially, is marked by a personal testament that touches on love as a thing universally felt, but uniquely experienced. Tolstoy said 'there are as many types of love as there are hearts' and today's love poetry adheres and showcases this opinion.
So I've picked out a few of my favourites to share with you here today on Valentine's Day, in an effort to convince any of you thinking that love poems are waffle to show you evidence of the contrary. And of course, to jump at the chance of showcasing more poetry on this blog (as always).
The first poem that pops into my mind when I think of an 'original' love poem is this ode, by Kenneth Koch, a wonderfully inventive poet who always uses language in the most vivid way. Here he talks of how much he loves his lover, in an almost puzzling and flummoxing original set of comparisons:
I love you as a sheriff searches for a walnut
That will solve a murder case unsolved for years
Because the murderer left it in the snow beside a window
Through which he saw her head, connecting with
Her shoulders by a neck, and laid a red
Roof in her heart. For this we live a thousand years;
For this we love, and we live because we love, we are not
Inside a bottle, thank goodness! I love you as a
Kid searches for a goat; I am crazier than shirttails
In the wind, when you're near, a wind that blows from
The big blue sea, so shiny so deep and so unlike us;
I think I am bicycling across an Africa of green and white fields
Always, to be near you, even in my heart
When I'm awake, which swims, and also I believe that you
Are trustworthy as the sidewalk which leads me to
The place where I again think of you, a new
Harmony of thoughts! I love you as the sunlight leads the prow
From Hartford to Miami, and I love you
Best at dawn, when even before I am awake the sun
Receives me in the questions which you always pose.
Don't you just love that line - 'I am crazier than shirttails in the wind'?! The whole poem is
vivaciously vibrant in its choice of content and uncanny descriptions. There can be doubting
its sincerity when the poet went to these lengths to describe something that has fallen into
an one-size-fits-all description territory. The result is a fanfare of the fantastic potential of
love to push boundaries and the exuberant feelings it evokes.
A poem that reminds me somewhat of this is a riff on the traditional Valentine's poem, from
Ogden Nash. In it Nash, another gung-ho stylist, compares how much he loves his lover not
in the conventional sense, but on the flip side - in negative ccomparisons, citing all the pains
and irritations in life. The effect is startlingly original, not to mention funny and clever. The
rhyme adds to the overall humour:
To My Valentine - Ogden Nash
More than a catbird hates a cat,
Or a criminal hates a clue,
Or the Axis hates the United States,
That's how much I love you.
I love you more than a duck can swim,
And more than a grapefruit squirts,
I love you more than a gin rummy is a bore,
And more than a toothache hurts.
As a shipwrecked sailor hates the sea,
Or a juggler hates a shove,
As a hostess detests unexpected guests,
That's how much you I love.
I love you more than a wasp can sting,
And more than the subway jerks,
I love you as much as a beggar needs a crutch,
And more than a hangnail irks.
I swear to you by the stars above,
And below, if such there be,
As the High Court loathes perjurious oaths,
That's how you're loved by me.
To be loved 'more than a toothache hurts' is a love that can't be denied I suppose!
Powerful, to say the least, ahem.
But wait, if you think that was blunt, have a look at this one from him:
Reflections on Breaking The Ice - Ogden Nash
Candy
Is Dandy
But liquor
Is quicker.
Indeed... You can't argue with that.
A real love poem I think has to have one main ingredient: sincerity. And what's the best way
to express sincerity?
S
imple language, ordinary scenario. In this poem
by Wendy Cope,
we
encounter the effects of love in the subtle realisation that the ordinary things of life have
suddenly become extraordinary for the speaker, and the result is sheer gladness, a kind of
citrus blaze:
The Orange - Wendy Cope
At lunchtime I bought a huge orange—
The size of it made us all laugh.
I peeled it and shared it with Robert and Dave—
They got quarters and I had a half.
And that orange, it made me so happy,
As ordinary things often do
Just lately. The shopping. A walk in the park.
This is peace and contentment. It's new.
The rest of the day was quite easy.
I did all the jobs on my list
And enjoyed them and had some time over.
I love you. I'm glad I exist.
The simplicity of this poem is disarming. Wendy Cope is master of such affecting understatement. Another love poem of hers similar to this one is 'After the Lunch', which expresses the reality of love in the midst of the commonplace:
After the Lunch - Wendy Cope

On Waterloo Bridge, where we said our goodbyes,
The weather conditions bring tears to my eyes.
I wipe them away with a black woolly glove
And try not to notice I've fallen in love.

On Waterloo Bridge I am trying to think:
This is nothing. You're high on the charm and the drink.
But the juke-box inside me is playing a song
That says something different. And when was it wrong?

On Waterloo Bridge with the wind in my hair
I am tempted to skip. You're a fool. I don't care.
The head does its best but the heart is the boss —
I admit it before I am halfway across.
Falling in love is perfectly rendered here. She doesn't mince words and there are no airs or graces to it. From this, the effect is all the more true and believable. Love not as some grand orchestra-strung event, but a 'jukebox inside playing a song', a homely kind of epiphany.

Speaking of fruit comparisons, how's this for a neat summing up of love? -
What Love Is Like - Piet Hein
Love is like
a pineapple,
sweet and
undefinable.
Is a pineapple undefinable? What about its prickly exterior? Hmm, there might be more metaphors to be got there...
Another poem that shows a manifestation of love in the commonplace is Billy Collin's 'Love.' In it the narrator is witness to a love story playing out beside him on a train. His deadpan factual observance of a young besotted boy and his muse gives way to a sort of miraculous revelation at the end:
The boy at the far end of the train car
kept looking behind him
as if he were afraid or expecting someone

and then she appeared in the glass door
of the forward car and he rose
and opened the door and let her in

and she entered the car carrying
a large black case
in the unmistakable shape of a cello.

She looked like an angel with a high forehead
and somber eyes and her hair
was tied up behind her neck with a black bow.

And because of all that,
he seemed a little awkward
in his happiness to see her,

whereas she was simply there,
perfectly existing as a creature
with a soft face who played the cello.

And the reason I am writing this
on the back of a manila envelope
now that they have left the train together

is to tell you that when she turned
to lift the large, delicate cello
onto the overhead rack,

I saw him looking up at her
and what she was doing
the way the eyes of saints are painted

when they are looking up at God
when he is doing something remarkable,
something that identifies him as God.
The poem ends with a resounding crescendo of love manifesting in the midst of the ordinary. Love, as a miraculous phenomenon, is easily believable here as compared to all of those traditional wordy cooings. It's in the simple gestures of love, that its divine nature is to be caught.
But maybe you find these all a tad saccharine? Well contemporary love poems do take account of this entitled cynicism. Trust Margaret Atwood to debunk the romance, attacking the meaninglessness of the word 'love' itself:
Variations on The Word Love - Margaret Atwood
This is a word we use to plug
holes with. It's the right size for those warm
blanks in speech, for those red heart-
shaped vacancies on the page that look nothing
like real hearts. Add lace
and you can sell
it. We insert it also in the one empty
space on the printed form
that comes with no instructions. There are whole
magazines with not much in them
but the word love, you can
rub it all over your body and you
can cook with it too. How do we know
it isn't what goes on at the cool
debaucheries of slugs under damp
pieces of cardboard? As for the weed-
seedlings nosing their tough snouts up
among the lettuces, they shout it.
Love! Love! sing the soldiers, raising
their glittering knives in salute.
Then there's the two
of us. This word
is far too short for us, it has only
four letters, too sparse
to fill those deep bare
vacuums between the stars
that press on us with their deafness.
It's not love we don't wish
to fall into, but that fear.
this word is not enough but it will
have to do. It's a single
vowel in this metallic
silence, a mouth that says
O again and again in wonder
and pain, a breath, a finger
grip on a cliffside. You can
hold on or let go.
Yes, you might relate better to Mrs Atwood's sharp sentiments. You can't deny that it's not
true or real - always refreshing traits when it comes to good love poetry. That description of
love as a 'mouth that says O again and again in wonder and pain' is a pretty accurate
description to me.
Contemporary love poetry is nothing if not surprising.'The Kiss' from Stephen Dunn is
maybe one of the most original love poems I've come across in a while, taking its inspiration
from a typo, of all things:
The Kiss - Stephen Dunn
She pressed her lips to mind.
—a typo
How many years I must have yearned
for someone's lips against mind.
Pheromones, newly born, were floating
between us. There was hardly any air.
She kissed me again, reaching that place
that sends messages to toes and fingertips,
then all the way to something like home.
Some music was playing on its own.
Nothing like a woman who knows
to kiss the right thing at the right time,
then kisses the things she's missed.
How had I ever settled for less?
I was thinking this is intelligence,
this is the wisest tongue
since the Oracle got into a Greek's ear,
speaking sense. It's the Good,
defining itself. I was out of my mind.
She was in. we married as soon as we could.
A mind kiss - not that's something not to be dismissed. Marvelous musing.
Former American Poet Laureate Ted Kooser can do short and sweet love poems faultlessly.
Sparingly, he creates little notes on love with a deft hand and endearing results. This one
particularly like:
Map of The World - Ted Kooser
One of the ancient maps of the world
is heart-shaped, carefully drawn
and once washed with bright colors,
though the colors have faded
as you might expect feelings to fade
from a fragile old heart, the brown map
of a life. But feeling is indelible,
and longing infinite, a starburst compass
pointing in all the directions
two lovers might go, a fresh breeze
swelling their sails, the future uncharted,
where the sea pours into the stars.
Like this? You can read more of Ted Kooser's love poems over on my Poem a Day blog
today. He has an entire collection of Valentine poems he's written over the years that
showcase his ability to take anything and write a love poem about it, in the most unexpected
ways. A keen characteristic of love itself.
Another deftly written poem celebrating love is Alice Oswald's 'Wedding'. What I love about
it is the soaring swinging language that evokes the effect
of a lifting-off from the ground, in
what is an imagined progression of love's evolution in a relationship. It speaks of
reeling
heights, and the lanuage reels out to accomodate this, without being superfluous or
overdone. Rather, tentative and revelatory to make a sublime finish:
Wedding - Alice Oswald
From time to time our love is like a sail
and when the sail begins to alternate
from tack to tack, it's like a swallowtail
and when the swallow flies it's like a coat;
and if the coat is yours, it has a tear
like a wide mouth and when the mouth begins
to draw the wind, it's like a trumpeter
and when the trumpet blows, it blows like millions…
and this, my love, when millions come and go
beyond the need of us, is like a trick;
and when the trick begins, it's like a toe
tip-toeing on a rope, which is like luck;
and when the luck begins, it's like a wedding,
which is like love, which is like everything.
So there you have it, a small selection that shows love poetry doesn't have to be a pompous
affair or a bland bore!
There's probably so many more good love poems I've not mentioned here - the popular and
unconventional 'Valentine' by Carol Ann Duffy is one that came to mind of course,
but I've
posted it already on this blog so had to leave it out. EE Cumming's 'i carry your heart' too
has become a popular staple of contemporary love poetry. If I've missed any of your
favourites - please feel free to share them here and share the love.
Have a happy poetic Valentine's!
~Siobhán